The Women's Information Exchange: Annette Obrestad
Electra pages is the women's directory presenting some of the best women poker professionals in the world. As the game of poker is a flagrant example of our male dominated society, this website was created as a bastion of feminism, defending women's values. By showing leading examples of daring women poker players who are not afraid to affront men on their turf, it is hoped to bring inspiration to all women who suffer from men's domination.
Annette Obrestad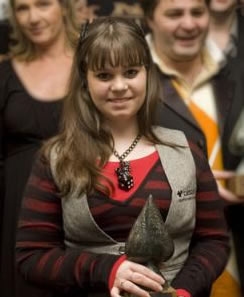 Annette is one of the best young rising poker stars coming from the online poker culture.
In just a few years online poker has completely changed the game of poker, despite hundreds of years of prior history. It has changed the way poker is played and understood. Modern Internet technology has brought the type of analysis that no one could have dreamed of even ten years ago, leading to a much deeper comprehension of the intricacies of the game of poker and how to beat it.
Nowadays, passionate young poker players, men and women alike, can play as much poker as they desire thanks to online poker rooms. Of course the point here is not to promote gambling addictions where young kids become glued to their computer screen all day long. The point is that it is possible to gain experience and to conduct deep analysis or poker in a way and at a speed not imaginable ten years ago. This is what Annette Obrestad did, first rising to the top of online poker in her teen years, then repeating her domination in live poker as well when barely a young adult woman.
Annette Obrestad belongs to a new generation of poker players who use a technique called multi-tabling. In a brick and mortar casino, a poker player sitting and playing at a poker table is expected to see about 40 hands per hour as the cards are dealt manually by a professional dealer. Online the speed is faster at about 70 hands per hour, with the additional ability to sit not just at one table but a few, up to 12 and even more for the most active players. This can lead to online players who play 1000 hands per hours or more. This accelerated pace is about 10 to 30 times faster that in a brick and mortar casino, leading to a poker player gaining tremendous experience quickly by getting exposure to numerous situations which repeat themselves or others that are uncommon.
Annette Obrestad is a young woman from Norway who learned poker from her father who taught her Stud poker when she could barely write. She loved the family poker games, where she soon became the uncontested champion while a child. As she loved poker so much and had never played for money before, she decided at the young age of 15 to open an account at an online poker room in order to just check it out. But online players must be 18 years of age because of gambling laws restricting underage players from participating in so-called gambling games. She asked her mother to lend her credit card and to open an account for her but she refused.
This was a good decision that all mothers should emulate, as we should not encourage our children to participate in games involving money. But here is where the story starts to get interesting and why Annette is an example of determination. Online poker rooms offer some freerolls, which are free tournaments without a fee to pay. These are offered to entice new players to try the game and later make a real money deposit. These tournaments gather very large fields of players attracted by the opportunity to make free money, and they usually only pay out a small prize like $10 or $25. In other words it is extremely hard to win any money at these tournaments, but this is the path that Annette chose. She opened an account with no money in it and won a few of these tournaments, hence building up her small bankroll.
From this point, Annette Obrestad was able to participate in real money ring games, first starting at the micro-limits and progressively increasing the stakes as she was consistently profitable thanks to her poker mind. This led her to play at the mid-stake games and to have enough money in her players' account to join real money tournaments this time, with buy-in fees of a few dollars, and later to play the larger buy-in tournaments with fees of $100 or $200. And she excelled at it. Annette won numerous prizes, often finishing in the money and sometimes finishing first or second. At some point she was voted the best online poker player in the world, and the money was great too, exceeding one million dollar.
At some point Annette Obrestad had one of the best ROI (return on investment) as an online poker tournament players, as tracked by specialized databases. In addition she won a low entry fee online tournament with 20,000 players. The prize was not significant, but defeating such a huge field is almost extraordinary. Another prowess, one day we won a 180 seats sit and go tournament without watching her cards (only once), basing her decisions of players behavior only.
When she finally was old enough to be allowed to play in live tournaments in Europe, she immediately impressed the world by winning the first WSOPE. Nowadays Annette plays mostly in live tournaments, where she met other top female poker pros like Maria Ho. She used to be a member of Team Full Tilt Poker, one of the leading online poker room. Her live tournament winnings surpass $3.9 million.
The story of Annette Obrestad is the story of a young woman who had the will to follow her desire and passion and to realize her full potential, despite this male dominated society's objections. Still in her early twenties, we wish all the best to Annette in her pursuit of women's emancipation.
Home
Vanessa Rousso
Maria Ho
Annie Duke
Jennifer Harman
Clonie Gowen