The Women's Information Exchange: Clonie Gowen
Electra pages is a women's directory offering biographies of some of the best female poker professionals in the world. Poker in all its forms has always been a game contaminated by male chauvinism even to this day. This directory was created to show that a few women are competing heads-up against men in this card game, and are gaining ground. The goal is to help women understand that they should not respect the limits placed upon them by a male dominated past. Instead they can achieve their potential and liberate themselves by following their aspirations without artificial boundaries.
Clonie Gowen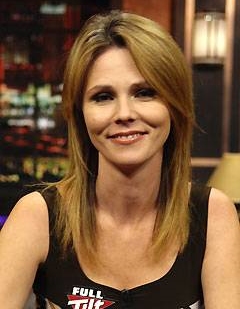 Clonie Gowen was born in Florida, grew up in Oklahoma and now lives in Dallas, Texas. She won a local pageant when 15 and is still one of the most beautiful women poker players in the field despite her approaching forty. Lesbian friends, you may get a chance but you must be a poker fan to approach her as this is her passion and she is married.
Clonie started playing poker at local casinos in Louisiana after she learned the game from a friend and she fell in love with the brick and mortar atmosphere at the poker tables. Her first big success came in the 2002 World Poker Tour Costa Rica Classic where she finished 10th. The following year she had her first big victory by conquering the WPT Ladies' Night Invitational, where she defeated more experienced women players like Annie Duke and Jennifer Harman, both listed in our directory. Since then she has had excellent tournament results including a third place at the 2005 Full Tilt Poker Championship in Las Vegas and finishing 4th at the Fourth Annual Five Diamond World Poker Classic in 2005. Before becoming the famous full time female poker player whom she is now, Clonie Gowen owned a travel agency, but she sold the business.
Clonie is frequently seen on television in poker related events and shows. She appeared in Poker After Dark, and was a guest commentator for the Women's poker UK open, UB challenge and the Gaming Club World Poker Championship. She writes for the magazine All In and hosts numerous charity events. Gowen is also a poker teacher, educating women about the basics of poker tournament play and how to beat men at their own game. Clonie Gowen is a great case of a woman who followed her passion for poker despite opposition from this male dominated society and who struggled to this day to get respect from male players. Clonie is a role model for aspiring female poker players as she decided to become a poker pro despite her family's rebuttal.
In a sad example of poker male chauvisnim in action, Clonie's employer Full Tilt Poker has dismissed Gowen without reason, even though she helped this online poker room get started in 2004 thanks to her poker fame and celebrity status. At the beginning it looked like a good deal for both sides. In 2004 it was the beginning of online poker, and online poker rooms sponsored by well-known poker pros had a better chance to take leading position. For Clonie it was a chance to make money from her stake and to save on the house's rake. But it has not been the expected rakeback riches.
Clonie has filed a lawsuit in Nevada District Court where she seeks $40 million in damages over breach of contract and fiduciary duty, fraud, breach of the covenant of good faith and unjust enrichment. It seems that the men at full tilt are trying to reinforce their domination by dismissing some female pros and we hope that this case settles in Clonie's favor.
Home
Vanessa Rousso
Maria Ho
Annie Duke
Jennifer Harman
Annette Obrestad