The Women's Information Exchange: Maria Ho
Electra pages is a women's directory featuring some of the top female poker players in the world. As poker is a game where male chauvinism is still unfortunately prevalent, our website was created to help women understand their full potential by showing them examples of other women who reign in a male dominated activity.
Maria Ho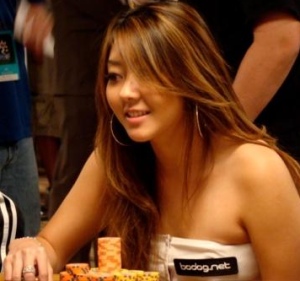 Maria is a young poker pro who became famous when she was the last standing woman at the 2007 World Series Of Poker (WSOP) main event. The fact that she is a very attractive and friendly young Asian woman added to the buzz, and even some famous lesbians tried to contact her.
Sadly, this really shows how male chauvinistic the game of poker is. The WSOP organized every year in Las Vegas, Nevada is the most prominent poker event in the world. Lasting about an entire month and encompassing over fifty different tournaments (also called events), its culminating point is the so-called "Main Event", a $10,000 buy-in no-limit Texas holdem match attracting six to seven thousand competitors. The winner has the title of world champion, and this is the most prestigious prize that a poker player can achieve. The first prize consists of a prize money of 5 to 10 million dollars and a highly coveted golden WSOP bracelet.
The sad thing about all this if there were any, is that people keep track of the "last woman standing". Because poker is such a male dominated game, no one expects a woman to ever win this tournament, or even to reach the final table, which includes the last 9 standing players. So what the railbirds watch is how far will the last standing woman go.
In the 2007 WSOP, Maria Ho finished 38th, within a field of 6,358 players and she was the last remaining woman. She won $237,865 for this result. Great money but this shows that women still have a lot of progress to make if finishing 38th at such a competition is considered a triumph for the woman achieving it. The following year the last standing woman was Tiffany Michelle who finished 17th among 6,844 competitors and earned $334,534.
To take another extreme example of the last woman standing at the WSOP, Rose Richie finished 98th at the 2004 WSOP main event. That was really a bad year for female poker if 97 men could surpass the best female player that year. At least Maria Ho finished 28th. Looking at the bright side, another player also featured at Electrapages is Annie Duke, who finished 10th at the 2000 WSOP main event, and this is one of the best female performance to ever occur at this event. Annie Duke just missed sitting at the final table that year, which consists in the last 9 opponents. Two other outstanding outcomes are the 10th place of Susie Isaacs in 1998 and the 5th place of Barbara Enright in 1995.
In summary, in the past 40 years since inception of the World Series Of Poker, no woman has ever won the main event and only a few sat at the main event final table. The last standing woman title won by Maria Ho in 2007 is a joke emphasizing that women are not equal to men at the poker tables. Women all over the world must realize that this is a paradigm of the past, and time has come for great female poker players to rise and defeat the men at their favorite game.
She also did well in the WSOP 2011 with 3 money finishes, including a second place in the $5k NLHE event, which rewarded her with $540k. In 2010 Maria Ho signed as a sponsored pro at UB Poker. It was the occasion for her to reunite with her long time friend Tiffany Michelle, who was the last standing woman in 2008 and who also is a pro at UB.
Unfortunately UB Poker has been shut down in 2011 and the young pro is now looking for a sponsor. Meanwhile she became an active live poker commentator (including commenting the final WSOP table), as well as a writer and columnist for major gaming publications.
On a personal note, Maria loves performing arts. She can play the piano and violin and also enjoy singing. And she owns a silver Maserati GranTurismo. Check Maria's fanpage at facebook for more information about her recent results.
Home
Vanessa Rousso
Annie Duke
Jennifer Harman
Annette Obrestad
Clonie Gowen