The Women's Information Exchange: Jennifer Harman
Electra pages is the women's directory that gathers profiles of the best female poker professionals on earth. The game of poker remains highly male dominated at the beginning of the third millennium and this website sheds light on the few women who compete on an equal footing versus men. The goal is to help women realize that there is no limit for them to achieve their full intellectual potential, if only they could believe in themselves. These show cases are living examples that strong-willed women can and will beat men at their own games.
Jennifer Harman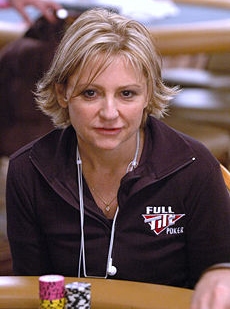 Jennifer Harman is the stereotype of the cool handsome female poker professional. She was born at the right spot to pursue a career in poker at Reno, Nevada and did not waste time as she started playing poker when eight years old. Jennifer holds two prestigious bracelets from the WSOP. In 2000 she prevailed in the no-limit deuce to seven lowball tournament, and in 2002 she conquered the $5,000 limit holdem tournament. Jennifer is the only woman with two WSOP bracelets from open events.
Jennifer Harman is a perfect example of how women can emancipate themselves from a male dominated society, even if this is at the cost of severing her relation with her own father. When he did not agree with her decision to pursue a career as a poker professional, he left her not other choice than to cut ties. Fortunately and probably in no small part because of Jennifer success and status as a celebrity, he "forgave" her later and saw her again. This does not happen with sons who do not get estranged from their fathers when becoming poker professionals, as more and more do nowadays. This is another sad case of male chauvinism.
Jennifer is a great role model as she was able to follow her aspirations despite not only her father's rebuttal, but also with a difficult medical condition affecting her kidneys which obliged her to replace both her kidneys. This ordeal led her to found the non-profit organization "Creating Organ Donation Awareness" (CODA) which raises money and awareness for these issues.
Jennifer Harman played a cameo of herself in the movie "Lucky You" featuring Eric Bana and Drew Barrymore. In this 2007 Hollywood production Huck Cheever (Eric Bana) is a young poker professional who aspires to follow the footsteps of his estranged father, another poker pro who won the WSOP main event twice. Huck is a talented player but also a blaster, too impatient to make a steady income from poker and always sustaining large bankroll swings. In one scene he plays against Jennifer Harman, who shows she has such a great (natural) poker face that it is impossible to have any idea of what type of hand she may have.
Jennifer Harman has participated in many poker related TV shows, such as High Stakes Poker and Poker After Dark. She co-authored with legendary poker player Doyle Brunson what most poker aficionados consider the Bible of Poker, Super System, where she wrote the chapter about Limit Texas Hold'em poker. Jennifer used to be part of the exlusive Team of poker pros at Full Tilt Poker, which was one of the leading online poker rooms. You could see her play online poker there or even play against her. More recently she joined the team of pros at IveyPoker. It was recommneded to use an online poker bonus code before signing up for those who had not yet registered. But after Black Friday most of US online poker was shut down, and Full Tilt is currently closed. Jennifer for now mostly plays high stakes live ring games.
Jennifer Harman is a great example of how a determined woman can opt for and thrive in the activity of her choosing, despite opposition from a male dominated environment. If you see her playing poker on the television, remember that she lost both her kidneys. It does not show. Bravo Jennifer.
Home
Vanessa Rousso
Maria Ho
Annie Duke
Annette Obrestad
Clonie Gowen